In almost two decades, Avital has implemented numerous successful projects in the agriculture, irrigation, and real estate sectors, with the help of local and global partners with their knowledge, technology, and experience.
Avital's newest partner is Saturas, the first company to develop InTree™ water intelligence system based on water monitoring from within the plant. Patented technology, the InTree™ Monitor, is the first commercially cost-effective technology to directly measure, the physiological best indicator for water status, Stem Water Potential (SWP).

Saturas ltd. is an Israeli agtech company that has developed a sensor-based precision system for optimized irrigation. The breakthrough technology for precise irrigation was developed in the north of Israel by Dr. Moshe Meron, a senior researcher at MIGAL Research Institute. With a deep understanding of the farmer's real needs, Dr. Meron developed a sensor that allows direct access to the plant's water tissue, measuring Stem Water Potential (SWP) daily.
Since the establishment in 2013, Saturas' technology has proven itself as an accurate and reliable irrigation Decision Support System (DSS) in apple, peach, citrus, avocado, wine grapes, cherries, nuts, and more. Saturas ltd. collaborates with Israel's leading farmers and irrigation researchers, as well as multinational corporations.
Saturas USA was established in California in 2017 as the North American subsidiary for Saturas Ltd.
In October 2020, with more than 1200 nominees, the Tech Breakthrough has selected Saturas as the Irrigation Innovation of the year, and chosen by Tracxn as a top IOT application for precision irrigation.
The Advantages
The Saturas InTree™ monitoring system automatically collects accurate data using a minimal number of sensors per hectare and can transmit the data to the central automated irrigation control system.
The technology tailors irrigation to real-time water needs of the crop, resulting in more efficient water use and increased yields, fruit size, and sugar content (e.g., vineyards).
The Saturas solution uses a direct measurement (from inside the plant) of scientific parameter that is considered the best indication of water status in many crops.
Embedding the sensor in the trunk eliminates the common problem of damage to sensors placed in the soil or on the tree/vine.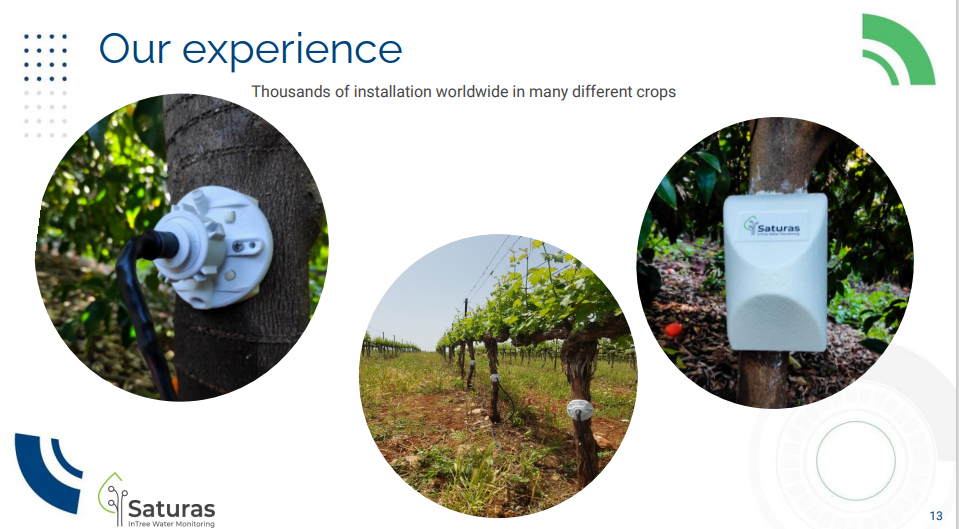 Saturas Value Proposition for growers
• Increases in fruit yields and quality – translating into 5% – 30% higher income
• Minimizes risks, losses
• Saves 10% – 40% water; reduces water costs
• Enables more planted area within water allotments
• Avoids overwatering
• Produces healthier trees
• Lowers groundwater contamination